EYE Super UV Tester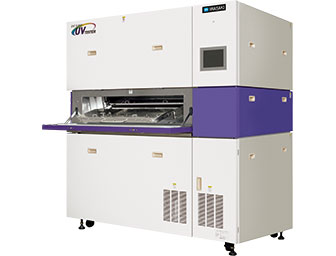 UV rays are the greatest cause of product deterioration. This unique system dramatically intensifies the deterioration acceleration caused by UV rays. It can achieve an acceleration factor greater than 100 times normal sunlight, producing material effects equivalent to extended outdoor exposure. Its compact size makes it ideal for research and development testing of paints, inks, pigments and fibers as well as plastics.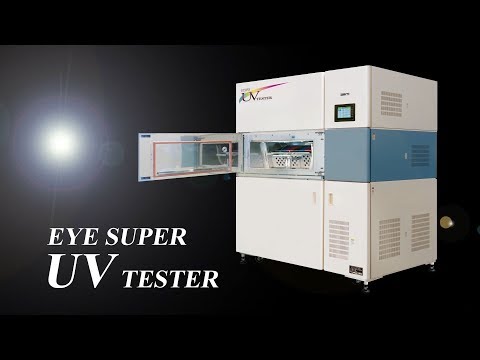 [Video]Super Accelerated Weathering Tester "EYE Super UV Tester"
5:17
Item
SUV-W261
SUV-W161
Irradiation range
200mm × 800mm
190mm × 422mm
Light source
Metal Halide Lamp (with filter)
UV intensity
150±8mW/cm²
Irradiated area variation
Under ±10%
Temperature control (BP: black panel)
+50℃ to +85℃ (during irradiation)
+35℃ to +75℃ (idle)
Humidity control
40%RH to 70%RH (during irradiation) at BP 63°C
50%RH to 90%RH (idle) at BP 50°C
Shower
Available during condensation and after downtime (idle)
Features
Testing is accelerated to more than 10 times that of typical weathering chambers. Accurate and speedy weather-durability assessment is enabled by the uniform irradiation from our proprietary high intensity UV irradiation source.
The irradiation distribution is uniform. The output irradiation power is programmable and maintained by a feedback control circuit.
The system cuts wavelengths under 295nm. Negative influence by wavelengths that are not found in sunlight has been eliminated.
CONTACT
US Office
EYE LIGHTING INTERNATIONAL OF NORTH AMERICA, INC.
Applied Optix™ Team
9150 Hendricks Rd., Mentor, Ohio 44060, USA
Tel: +1-440-350-7005
Fax: +1-800-811-7395
JAPAN Office
IWASAKI ELECTRIC CO., LTD.
Applied Optics and Environment Business Unit,
Sales & Marketing Division
1-1-7, Higashi-Nihonbashi, Chuo-ku, Tokyo 103-0004, Japan
Tel: +81-3-5846-9027
Tel: +81-3-5846-9035