Konohana Arena
Creating a pleasant lighting environment using a friendly lighting method with lighting patterns that can be adjusted according to use to light a vast space using the latest technology to be enveloped in the special warmth of timber / Shizuoka City, Shizuoka Prefecture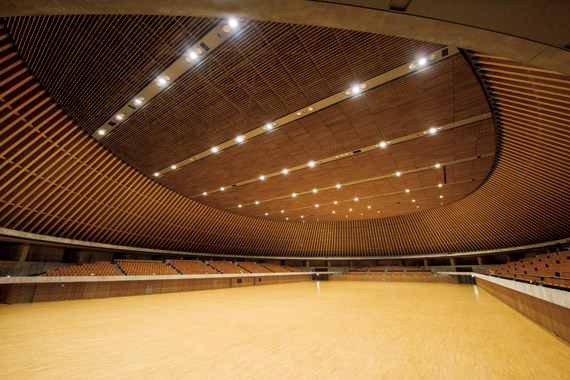 Konohana Arena is a gymnasium inside Kusanagi Athletic Field, which is a prefecturally managed municipal park in Shizuoka Prefecture. Boasting a building area of 9,701m² and a total floor space of 13,509m² , its main floor has enough space to fit 4 basketball courts and seating for 2700 spectators, while its sub-floor maintains enough space for a single basketball court. The gymnasium makes abundant use of locally produced Tenryu Japanese Cedar, with its merit being a large space enveloped in the special warmth of timber. For its lighting, it uses a combination of 1000W EYE Multi-Metal lamps and 200W LEDioc HIGH-BAY Λ (5000K) LED high ceiling lighting fixtures for its main floor, and 200W LEDioc HIGH-BAY Λ (4000K) lights for its sub-floor. On the main floor, each of the 4 courts can be lit separately, and it is possible to switch between 4 levels of brightness covering 200~1500 lux to match whatever the courts are being used for. Selection of light sources was carried out in accordance with frequency of use, with only LED lamps being used for the most frequently used brightness of 200 lux, and with only HID lamps being used for the less-frequently used brightness levels of 500, 1000, and 1500 lux. When used at a brightness of 500 lux, control is employed to have daily on/off groups switched in a cycle to reduce lamp-change frequency. Furthermore, both the HID and LED lamps use fittings compliant with initial brightness compensation, which has achieved a 15% reduction in lighting. The large space is comfortably lit with lighting equipment that can handle a variety of uses, from amateur to professional competitions, creating a pleasant lighting environment befitting a feel-good "timber-enveloped gymnasium" with a sense of scale.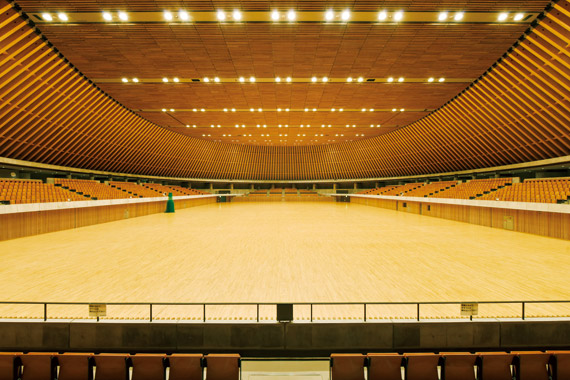 A 1000 lux lighting pattern with 2-lamp combinations of 1000W EYE MULTIMETAL lamps.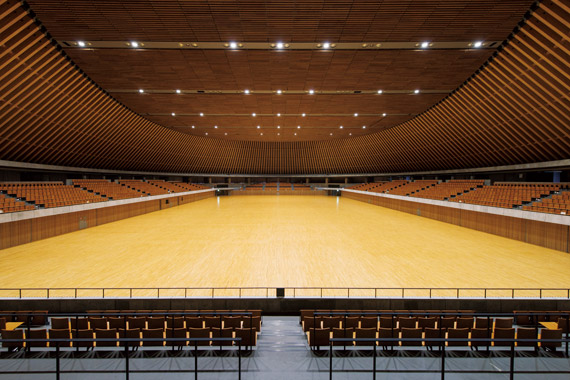 A 200 lux lighting pattern with only 200W LEDioc HIGH-BAY Λ lights turned on.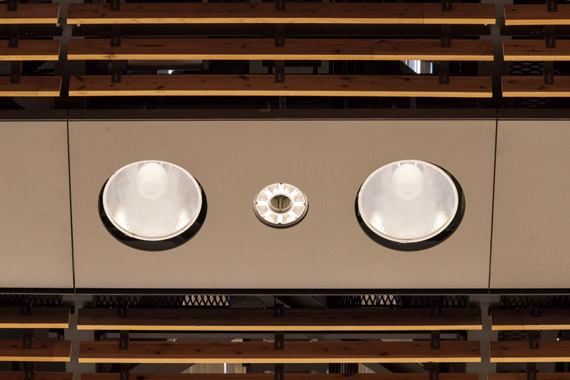 200W LEDioc HIGH-BAY Λ (5000K) LED lights have been arranged between 2-lamp combinations of 1000W EYE MULTI METAL lamps.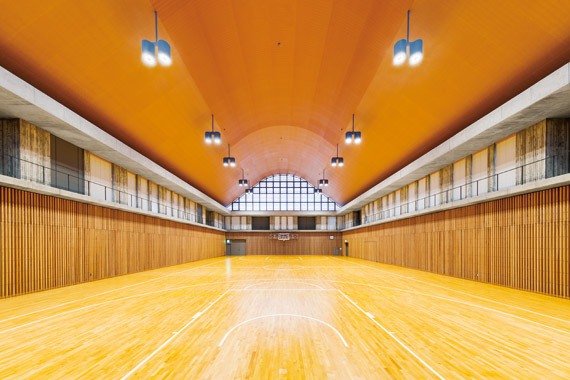 The sub-floor uses 2-lamp combinations of 200W LEDioc HIGH-BAY Λ (4000K) lights, with both 200 lux and 500 lux lighting patterns possible.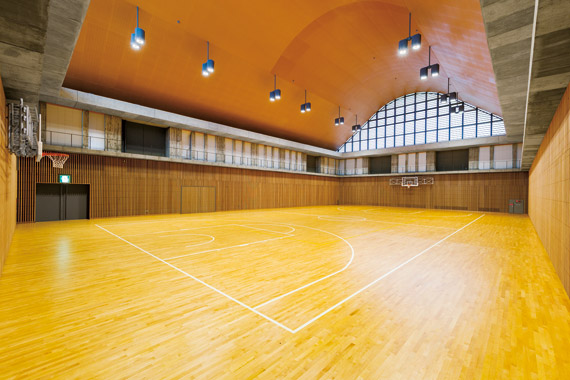 The sub-floor is 714m² , which is enough space for a basketball court.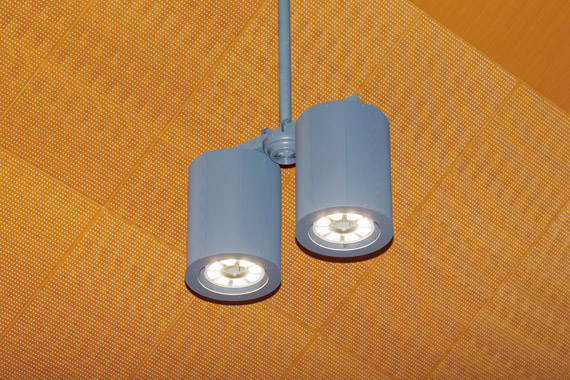 The installed 200W LEDioc HIGH-BAY Λ (4000K) lights.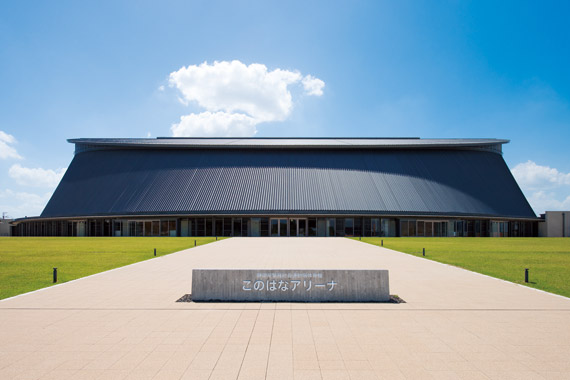 A daytime view of the facility, which has a dignified appearance and takes its relationship with its surroundings into account.
Specification
EYE Multi Metal Lamp 1000W - 144
LEDioc HIGH-BAY Λ 5000K - 56
LEDioc HIGH-BAY Λ 4000K - 24
EYE Halogen Lamp 500W - 8