LEDioc Lamp G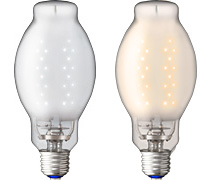 Lineup consisting of three colour temperatures: white daylight (5000K), and warm incandescent (2700K)
High colour rendering (Ra82 at 2700K, Ra70 at 5000K) ensures objects are illuminated vividly. 
Highly efficient output of up to 152.6ℓm/W
Reaches full brightness immediately
Long LED module life of 40000 hours.
Maintain existing luminaires through a lamp + gear change.
Achieves uniformity of light distribution equivalent to that of an HID lamp.
Light and compact with the familiar look of traditional HID lamps.  Compatible with wide variety of street/landscape lighting fixtures.
Product Series
LEDioc Lamp G
| Model Number | Wattage | CCT | CRI | Luminous Flux | Luminous Efficacy |
| --- | --- | --- | --- | --- | --- |
| LDS12N-G/GD | 12W | 5000K | 70 | 1400ℓm | 95.9ℓm/W |
| LDS12L-G/GD | 12W | 2700K | 82 | 1100ℓm | 75.3ℓm/W |
| LDS16N-G/G | 16W | 5000K | 70 | 2900ℓm | 152.6ℓm/W |
| LDS16L-G/G | 16W | 2700K | 82 | 2200ℓm | 115.7ℓm/W |
Specifications
Operating Temperature Range : -25 to +40°C
Burning position : Universal
Dimensions / Weight