LED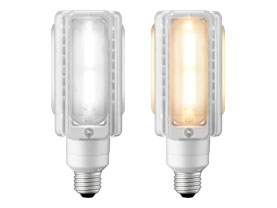 Utilizes highly efficient/high-powered COB-type LED package.
Lineup consisting of three colour temperatures: white daylight (5000K), white (4000K) and warm incandescent (3000K)
High colour rendering (Ra85 at 4000K, 3000K and Ra 70 at 5000K) ensures objects are illuminated vividly.
Highly efficient output of up to 121lm/W (5000K)
Reaches full brightness immediately.
Long LED module life of 40,000 hours.
Lineup