LEDioc TUBE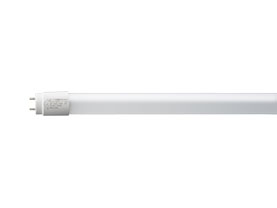 EYE LEDioc TUBE offers energy savings for traditional fluorescent lighting applications without a comprehensive system change-out. The form factor is equal to conventional fluorescent lamps providing consistency of visual appearance for critical applications.
Diverse color temperatures are available, including 3000K, 4000K & 6500K.
High color rendering(Ra80) which ensures a vivid illumination.
High luminous efficacy up to 150ℓm/W(135ℓm/W when 3000K).
Long average life up to 40000 hours(30000 hours for flicker-free type).
Standard Type
Wattage
Length
CCT : Luminous Efficacy
Circuitry
Product Data Sheet
14W
16W
20W
1200mm
3000K : 135ℓm/W
4000K : 150ℓm/W
6500K : 150ℓm/W
Single-ended
Double-ended
PDF 142KB
24W
1500mm
Common Specifications
Bulb : T8
Base : G13
CRI : > Ra80
Life Span : 40000 hrs
Input Voltage : 220~240V
Service Temperarure : -20~45℃
Power Factor : > 0.9
Beam Angle : > 160°
Protection Grade : IP20
Material : Glass + PET
Certification & Coformity : CE(not include double-ended models), RoHS
Flicker-Free Type
Wattage
Length
CCT : Luminous Efficacy
Circuitry
Product Data Sheet
16W
1200mm
4000K : 150ℓm/W
6500K : 150ℓm/W
Single-ended
Double-ended
PDF 142KB
Common Specifications
Bulb : T8
Base : G13
CRI : > Ra80
Life Span : 30000 hrs
Input Voltage : 220~240V
Service Temperarure : -20~45℃
Power Factor : > 0.9
Beam Angle : > 160°
Protection Grade : IP20
Material : Glass + PET
Certification & Coformity : CE(not include double-ended models), RoHS