Hagi Meirin Gakusha
LED light charmingly illuminates Hagi Meirin Gakusha, a newly opened tourist location in the historic city of Hagi / Hagi City, Yamguchi Prefecture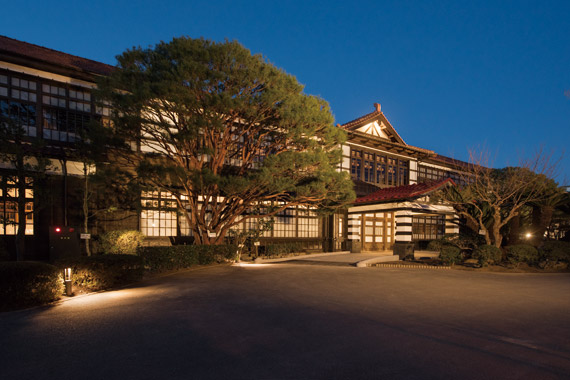 Hagi Meirin Gakusha opened in March of 2017 in the city of Hagi in Yamguchi Prefecture. The facility is a renovation of the old elementary school buildings that were built in 1935 and where lessons continued to take place until March of 2014. The four large wooden buildings have remained unchanged even though more than 80 years have passed, and nothing similar can be found anywhere else in Japan. Among them, the main building is a registered tangible cultural property, having a distinctive design and functionality. The area on its first floor is a suitable starting point for sightseeing in Hagi, and includes both a tourist information center and a restaurant where visitors can sample seasonal flavors. On the second floor, you can find offerings including the" Hagi-Clan School Meirinkan Exhibition Room," the" Meirinkan School Exhibition Room," and the "Restored Classroom." Reborn as a new sightseeing spot in Hagi, Hagi Meirin Gakusha features attractive illumination at night, courtesy of scenery with a deep sense of refinement in harmony with Hagi's townscape created by making the entire building stand out using expressive shadows with a focus on the building's distinctive east and west ends and central gambrel roof. The gambrel roof is illuminated with spreading light from 80W LEDioc FLOOD NEO LED floodlights in combination with concentrated light from 80W LEDioc FLOOD BLITZ high-output LED floodlights for contrasting light that beautifully displays the structure of the distinctive roof and its ornamental ridge-end tiles. Furthermore, the depth of the gambrel roof has been used for the installation of LED line lighting in the form of LEDioc moisture-prevention line-units, brightly lighting the triangular stucco walls and accenting the scenery. The lighting fixtures are compact with minimal presence, and have been painted with a uniform scenic color. Their installation has been concentrated in the fewest locations required in accordance with a lighting positioning plan that also sufficiently takes into account the daytime scenery.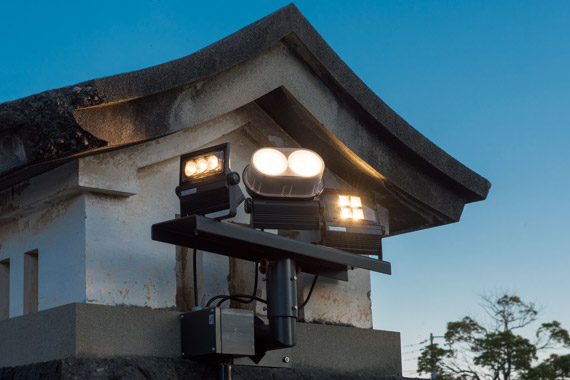 The combination of 80W LEDioc FLOOD NEO and 80W LEDioc FLOOD BLITZ lights creates a contrast in light to effectively illuminate the gambrel roof.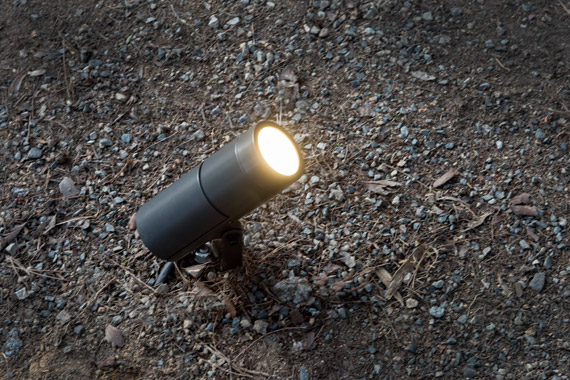 The compact-design LEDioc FLOOD NINO lights include an onboard power unit.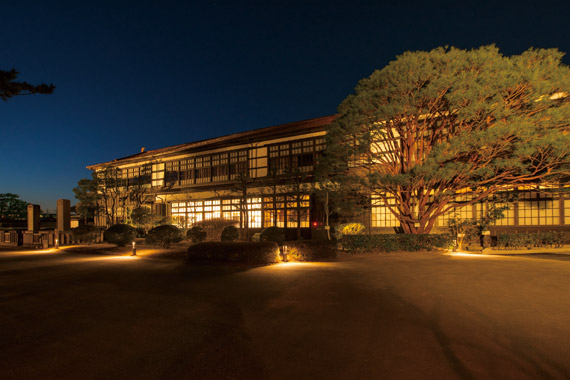 A night-time view of the elegant Hagi Meirin Gakusha main building, which was built in 1935.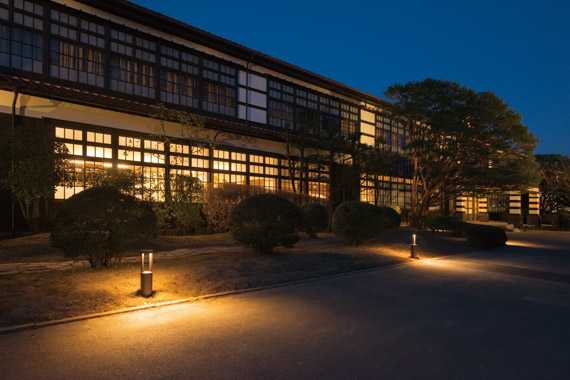 The LEDioc AREA QUALLIS TYPE D approach lights are incandescent in color in order to be in harmony with the historical building, which features a distinctive design involving consecutive windows.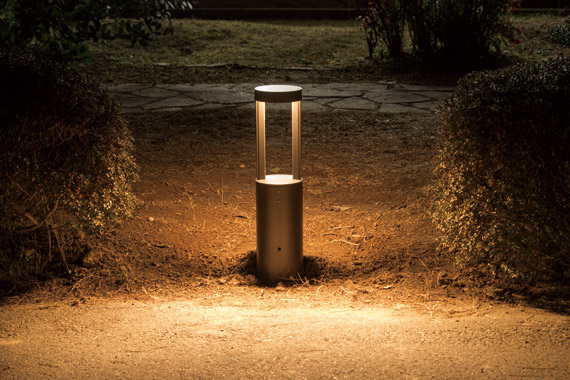 LEDioc AREA QUALLIS TYPE D lights have been used for the approach lights. They have light sources that cannot be seen and spreading, downward light.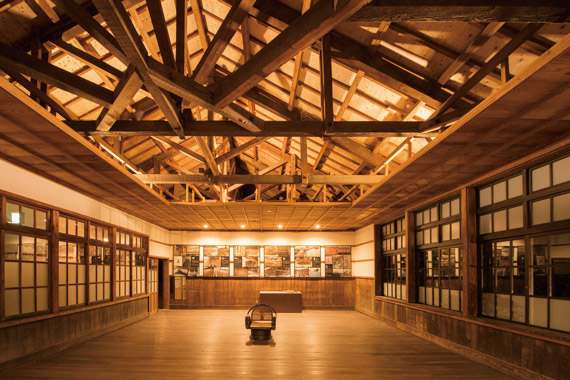 The room above the ceiling that shows the distinctive architectural structure of the main building, which is a national registered tangible cultural property. The ceiling is illuminated with 33W LEDioc LED EYE LAMP and LEDioc FLOOD POP (rectangular) lights, with their soft, incandescent light creating an effect of warm space that suits the wooden architecture.
Specification
LEDioc FLOOD NEO 80W - 4
LEDioc FLOOD NEO 60W - 1
LEDioc FLOOD BLITZ 80W - 3
LEDioc APPROACH QUALLIS TYPE-D - 8
LEDioc LINE UNIT - 6
LEDioc FLOOD NINO - 3
LEDioc LED EYE LAMP 33W - 2
LEDioc FLOOD POP - 1