Fukushimahama Greenway
Lighting effects that create rich and attractive night-time scenery and aim to blend in with the surrounding area / Osaka City, Osaka
Fukushimahama Greenway is popular with city residents as a promenade where one can enjoy gentle walks in the breeze blowing in from the river. In March of 2017, the city of Osaka carried out renovations to Fukushimahama Greenway's park lights, installing new lighting fixtures to illuminate the cherry, pine and fir trees. The existing pole lights were used, with just the lamps and globes being updated. In place of the existing 150W compact metal halide lamps, 70W EYE CERA ARC Natural Red SERIES lights, which bring out the natural beauty of" red," were used to actively suppress glare. For the illumination of the cherry and other trees, actual equipment was used for illumination tests during the design stage, after which high-chroma 80W LEDioc FLOOD NEO Vivid LED floodlights with high color rendering were selected to more beautifully display the color of the cherry blossoms. Elsewhere, the pine trees on the Taminobashi Bridge over Nakanoshima's Dojimagawa River have branches that look like swimming octopus, and because of this are known as "octopus pines". They are recreations of pine trees that have been popular with the people of Osaka since the Edo period, and these reincarnations of the "octopus pine" symbols of the area are also impressively lit with 80W LEDioc FLOOD NEO Vivid LED lights to faithfully reproduce their color. The location's charm as a place for relaxation and enjoying walks has increased with the current lighting renovations, as well as the attractiveness of its scenery when seen from afar, which has made the light scenery of the Nakanoshima area all the more enjoyable.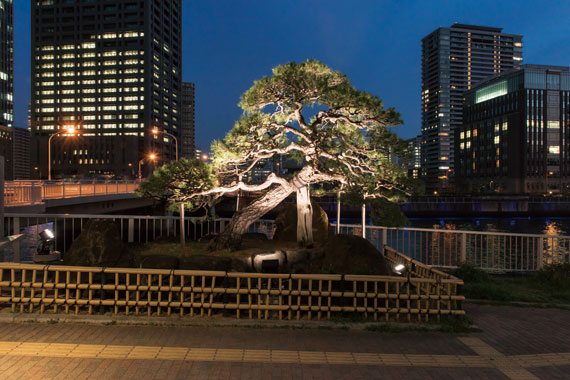 An impressive illumination of the "octopus pine" trees, resurrected from days of old.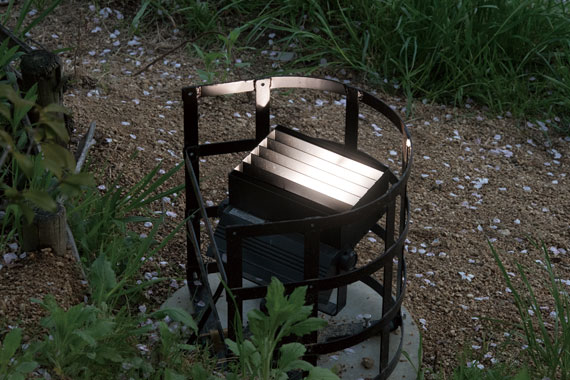 The installed 80W LEDioc FLOOD NEO Vivid LED floodlights, which have attached shade-louvers that take light-bleed into the surrounding area into account.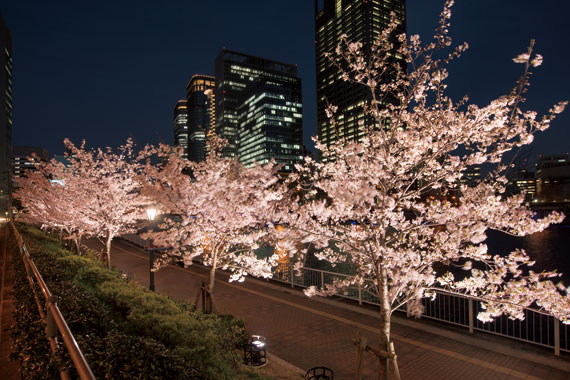 The 80W LEDioc FLOOD NEO Vivid LED floodlights enchant with more beautiful and brilliant colors for a cleaner illumination of the pale pink of the cherry blossoms.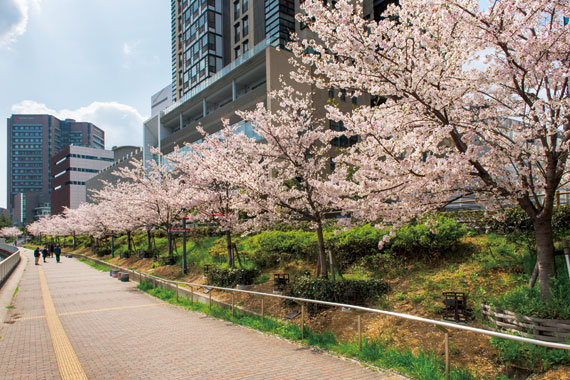 A day time view of Fukushimahama Greenway, which has been established as a promenade where cherry blossoms bloom and people can enjoy gentle walks.
Specification
EYE CERA ARC Natural Red 70W - 12
LEDioc FLOOD NEO Vivid 80W(3200K) - 31
LEDioc FLOOD NEO Vivid 80W(4200K) - 48
LEDioc FLOOD NINO - 4