AEON (Thailand) CO., LTD. MaxValu Nawamin Store
Changing the lighting for the outside environment at a 24hr supermarket to LED lighting to create a safe and worry-free environment at night / Bangkok, Thailand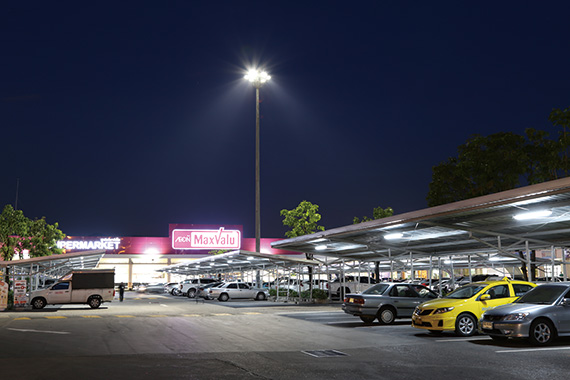 The MaxValu Nawamin Store (hereinafter referred to as the "MV Nawamin Store") is a food supermarket that opened in 1992 as the second store in the AEON group's push into Thailand. 25 years after its opening, the MV Nawamin Store has undergone a large-scale store renovation aiming at a re-imagining of the outside environment in order to provide customers with safety and peace-of-mind at night, with a change to LED for all of the lighting for the parking area, the signboards, and the store entrance. The lighting for the parking area was changed in December of 2016 with the introduction of 6 units of IWASAKI LEDioc FL200 (LEDioc FLOOD BLITZ) lights as high-mast lighting in a lighting plan focusing on LED products from L&E, with whom ELT "EYE LIGHTING (THAILAND) CO., LTD. " is collaborating. Waterproof LED lighting fixtures have been installed on the newly erected parking area roof, and together with the high-mast lighting provide a safe and worry-free lighting environment for customers to use at night. The lighting under the eaves of the store entrance used fluorescent lamps, but these were insufficiently bright and so were changed to high-output LEDs, and AEON also made its natural-light signboards larger. Brightness is adjusted by lighting the wall surfaces between the signboards with LED lighting, enabling the creation of a bright and comfortable outside environment.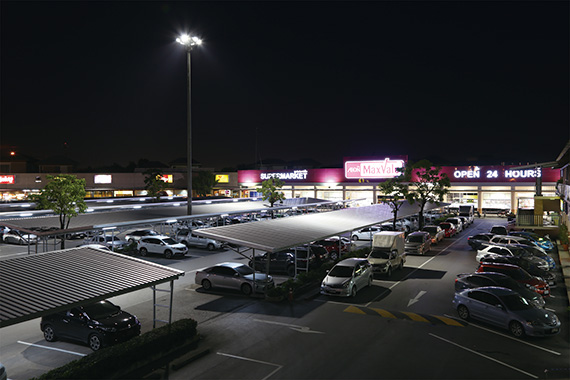 A view of the 24hr supermarket from the parking area.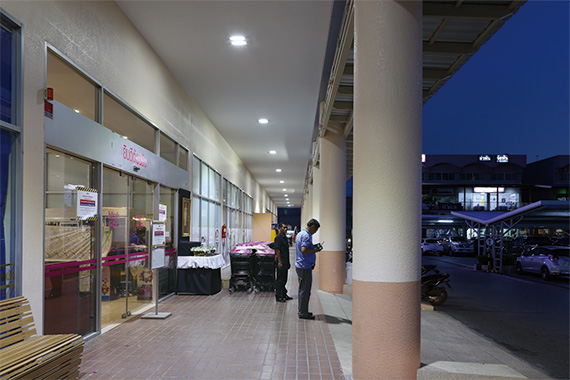 L&E 130W Canopy LED lights have been arranged in place of the fluorescent lamps that were previously under the eaves of the store entrance, creating a bright and comfortable lighting environment.
Specification
LEDioc FL200 - 6
LLWPF/2L + LEDtube18w - 70set
RCL322 - 11
FLL80 - 12
FLL50 - 6