R & D, PRODUCTION in JAPAN
Research & Development
Research and Development building "HIKARIUM"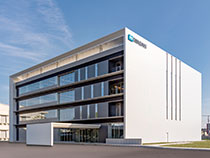 A center of R & D for Iwasaki Electrics Group. It produces high value added products to the market by utilizing cutting-edge analyzers and facilities.
Development & Production
Saitama Plant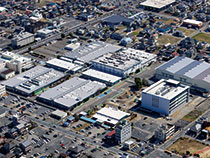 Opened in 1960, this is the primary manufacturing facility of Iwasaki Electric Co., Ltd. Occupying a plot of 63000m² in Gyoda City, Saitama Prefecture, the factory is one of the largest light source manufacturing facilities in Japan. A state of the art, fully automated production line ensures a reliable and consistent production of a variety of light sources including HID, LED and UV lamps. Additionally, the production of lamps for specialist applications such as water purification, printing equipment, and ODF method equipment for LCD panel is also undertaken here.
Honjo Factory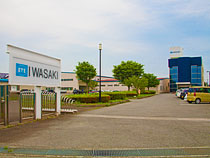 A key facility for future expansion into the applied optics and environment business. The environmental testing equipment, sterilization equipment and the UV/infra-red curing equipment used in surface treatment systems for various applications such as ecological print, coating, and adhesives are inspected, adjusted, and supplied here.
Kawasato Factory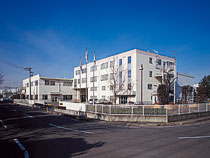 The development and production of information display equipment for use on roads and tunnels-amongst numerous other applications-takes place here, combining high-quality manufacturing techniques and rigorous quality control procedures in a state of the art production facility.