Kanda University of International Studies Gymnasium Arena
Lighting the gymnasium arena of a university with a range of facilities supporting a rewarding campus life with LED high-ceiling lighting fixtures to realize power savings and increased brightness / Chiba City, Chiba Prefecture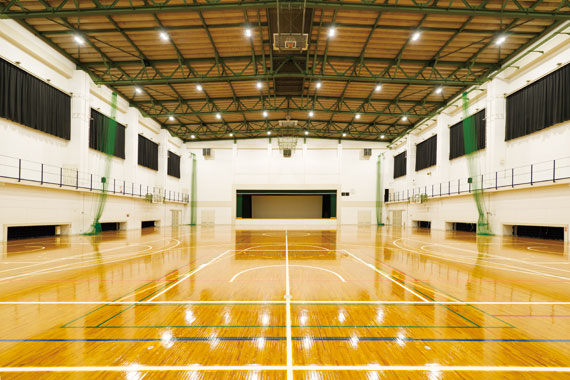 Kanda University of International Studies is a private four-year university/graduate school with foreign-language undergraduate departments where students can learn a variety of languages from around the world (Department of English, Department of Asian Languages, Department of Spanish and Portuguese, Department of International Communication) and a graduate school (Department of Language Sciences). Located in Makuhari's new city center, the campus features attractive facilities such as school buildings and libraries that give the impression of art galleries, a rich variety of restaurants and cafes, and open spaces with well manicured lawns, all of which support a rewarding campus life for its students. The campus also has many exercise facilities, including artificial and non-artificial turf sports ovals, as well as dance squares, and in March of this year, work took place to change the lighting for another one of those facilities - the gymnasium arena - to LED. The first floor of the gymnasium features a training room and a gymnasium arena where one can enjoy sports such as basketball, volleyball, and badminton, while the second floor features an area for Judo and another for Kendo. It was the lighting for the first-floor gymnasium arena that underwent an upgrade this time, with the change to LED lighting taking place due to the ageing of the existing lighting fixtures. In making the change to LED, LEDioc HIGH-BAY α lights were selected after on-site illumination testing. The design had previously featured 70 0W mercury lamps around the circumference, with 40 0W lamps lighting the middle section, so by installing LEDioc HIGHBAY α lights, which ensure a brightness equivalent to 700W mercury lamps for a power consumption of 214W, and a brightness equivalent to 700W metal halide lamps for a power consumption of 145W, increased brightness and large-scale power conservation were able to be achieved. The LED lighting can be turned off and on instantaneously, so the fact that appropriate lighting patterns could be freely set as required using the existing switches and finely splitting the circuits was also highly rated.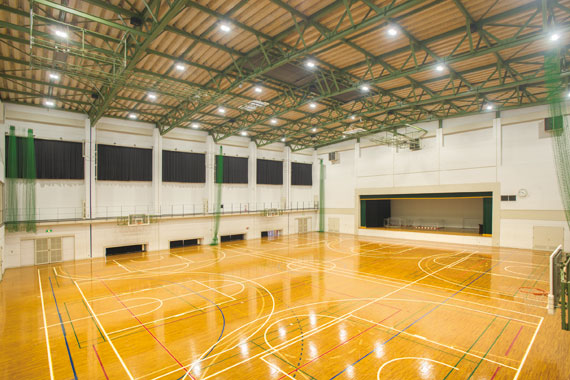 A combination of 214W and 145W LEDioc HIGH-BAY α lights has been used for the light to light the spacious area with its 13m-high ceiling, achieving increased brightness and large-scale power savings.
The installed LEDioc HIGH-BAY α lights.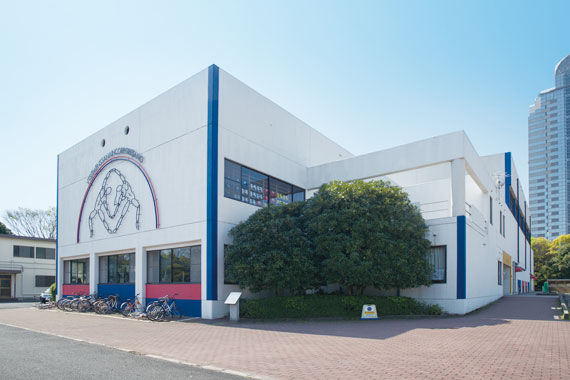 A view of the exterior of the gymnasium during the day.
Specification
LEDioc HIGH-BAY α 214W - 12
LEDioc HIGH-BAY α 145W - 24