Message from the President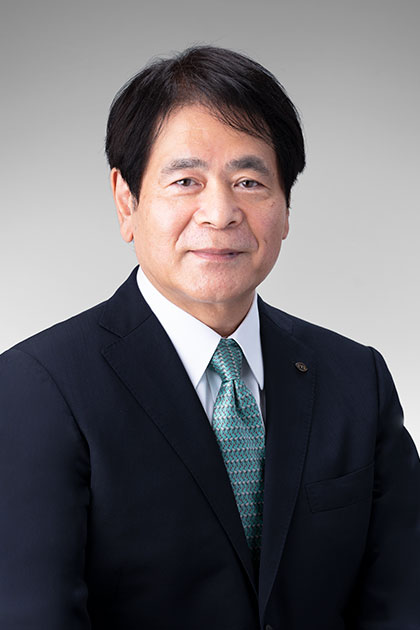 First, I'd like to outline the Iwasaki Electric Group's financial results for the fiscal year ended March 31, 2021. While net sales in the Lighting segment decreased and net sales in the Applied Optics and Environment segment increased slightly, the Group's overall net sales, operating income, and ordinary income declined, all on a year-on-year basis.
In the Lighting segment, sales of tunnel lighting equipment increased as we responded to infrastructure renewal demand from the national and local governments. However, sales of LED lighting, which had been growing steadily, declined due to the curtailment of corporate capital expenditures in response to the COVID-19 pandemic and the reaction to demand related to the Tokyo Olympics and Paralympics during the previous fiscal year. As a result, net sales in the Lighting segment decreased year on year.
In our business in the Applied Optics and Environment segment, sales decreased in the UV-curing systems and environmental testing equipment fields due to movements toward freezing and postponing capital investment. However, in the sterilization field, sales of the "AIRLIA" series, which are airflow UV purification systems using UV technologies, grew significantly due to demand related to the prevention of COVID-19. As a result, net sales in the Applied Optics and Environment segment increased year on year. We have launched new products in the "AIRLIA" series targeting not only industries but also individual customers, with a plan to further expand product variations.
The UV business is a field in which we have been active for a long period of time, and while the competition has been growing since the beginning of the current fiscal year under review, we intend to develop it as a steady business to seize this opportunity.
Next, let's look at the management environment and business outlook for the Iwasaki Electric Group. Engaged in business operations in the Lighting segment and the Applied Optics and Environment segment, the Group aims to provide solutions businesses, including peripheral businesses, in both segments by combining existing optical technologies with new technologies.
Turning to the future outlook, economic sentiment varies depending on region and industry in Japan and overseas, and the recovery in overall capital investment has slowed down. These trends are increasing uncertainties about the future more than ever. Amid such circumstances, we will respond promptly to changes in our existing businesses and work to expand with a focus on increasing market share.
In addition, due to growing efforts to create a decarbonized society, businesses aimed at energy conservation and environmental impact mitigation may accelerate. Taking advantage of this opportunity, we will strive to increase corporate value by providing products and services with even higher added value.
The Company's capital policy is based on providing stable dividends to its shareholders. As we are undergoing a period of major changes in our business structure, we maintain a balanced capital policy that places top priority on financial soundness for reforms, and to steadily invest for sustainable growth with an emphasis on improving capital efficiency. In addition, we started the acquisition of treasury stock of up to 500 million yen on May 20, 2021. We will continue to implement flexible and balanced capital policies in the future to build a corporate structure that will achieve sustainable growth.
We greatly appreciate and look forward to your continued understanding and support.
June 2021