Message from the President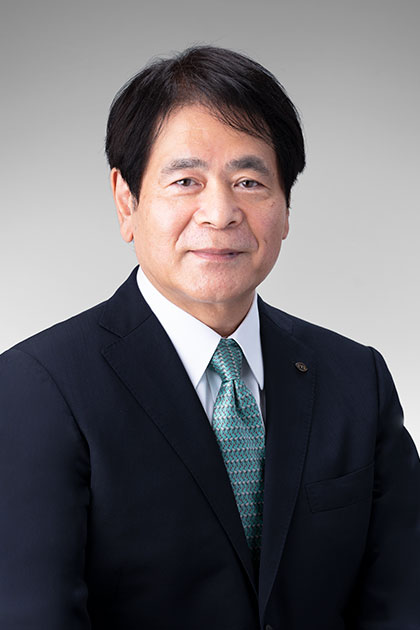 Upholding the corporate philosophy of "Employing optical technologies to create a comfortable society and sustainable environment," the Iwasaki Electric Group adheres to the management policy of making strides forward to become a "Light & Environment Company" that realizes the full potential of light and maximizes its leading-edge optical technologies to help reduce environmental impacts by saving energy as well as enhance the safety and security of society.
Given the impact of the U.S.-China trade frictions and the stalled production and reduced consumption resulting from efforts to prevent the spread of the novel coronavirus (COVID-19), both the global and domestic economy are currently facing a challenging situation that can be described as "the crisis of the century," which is increasing the uncertainty of the Group's business environment to unprecedented levels.
Our businesses in the Lighting and Applied Optics and Environment sectors are both highly susceptible to capital investment trends. If corporations continue to postpone capital investment under the current economic conditions, our financial performance is expected to be severely affected. Notwithstanding the challenges expected in some markets, however, we will strive to combine our long-accumulated optical technology with related technologies in the two sectors with the aim of providing products with unique features and expanding our solutions businesses including peripheral businesses.
In our business in the Lighting sector, we expect to see ongoing government initiatives to promote the use of LED lighting for stock demand, while in our business in the Applied Optics and Environment sector, markets related to UV-curing systems are experiencing a heightening momentum toward the reduction of environmental impacts. We will make efforts to seize these opportunities and capture related demands.
Our business in the Lighting sector will strive to develop high-value-added products that meet market needs and pursue total solution business including peripheral businesses in the fields of facility lighting and industrial lighting. Production, export, and import of all mercury lamps will be prohibited effective December 31, 2020, but we see this as an opportunity to introduce LED lighting as replacements for mercury lamps, and are poised to expand our lineup of alternative products. By combining LED lighting with control functions, we believe we can enhance the energy-saving capacity and lighting quality and effect of LEDs, thereby creating a comfortable and enjoyable lighting environment. In product development, increased focus will be placed on integrating the Group's proprietary light distribution and circuit control technologies with external technologies to develop environmentally friendly and energy-efficient lighting systems. In addition, by building on our special expertise in outdoor lights, we will also develop lighting systems that help prevent and mitigate natural disasters, which are increasing in frequency today. To cater to the environmental changes and diversifying market needs, we will not only strengthen our procurement skills for equipment and devices, but also promote research and development with the aim of achieving technologies and solutions that allow us to offer software and new services related to the hardware we provide.
Our business in the Applied Optics and Environment sector will strive to push forward our new solution business in the environmental testing, UV/EB curing, and sterilization fields by applying the Group's diverse optical technologies including electron beams and ultraviolet rays.
In the environmental testing field, efforts will be made to maintain and expand business by developing new test equipment and a light radiation system, as well as by strengthening marketing activities both in Japan and abroad.
In the UV/EB cure and sterilization/disinfection/water treatment-related fields, we will work to advance into new markets and develop novel applications in addition to engaging in research and development and marketing of individual products in conventional industries.
In our business in the Applied Optics and Environment sector, while undertaking the above short-term initiatives, we will make maximum use of the Group's proprietary basic optical technologies to proactively combine them with peripheral technologies. Meanwhile, from the medium- and long-term perspectives, we will strive to control environmental pollution and endeavor to open up new business fields.
The Iwasaki Electric Group aims to build a corporate structure that supports sustainable growth by improving corporate value with its lighting and optical technologies. To achieve this goal, in the Lighting sector and the Applied Optics and Environment sector, we allocate our business resources intensively to research and development and marketing activities to promote solutions businesses and to optimize our workforce so as to respond quickly to changes in the market.
We greatly appreciate and look forward to your continued understanding and support.
June 2020